Industrial Stainless Steel Earth Rods | Stainless Steel Grounding Rods| SS Cladded rods | SS Plated Rods | Stainless Steel Bonded Grounding Rods
Stainless Steel Plated Rods | SS Grounding Bars | SS Earth Rods | Stainless Steel Clad Earth Rods | UL Listed SS Bonded Ground Bars
Stainless Steel Earth Rod
Nexus Metal & Alloys manufactures, exports and supplies Stainless Steel Earthing Rods which are utilized to overcome a large number of the issues created by galvanic corrosion which can happen between unique metals covered in nearness. Different points of interest of Stainless Steel Earthing Rods are that they are profoundly impervious to corrosion are considerably more anodic than copper.
Stainless Steel Earthing Rods are utilized where galvanic consumption is liable to influence earth bars because of divergent metals covered in closeness as copper earth rods are more helpless against galvanic corrosion. Stainless steel rod is more anodic than copper and are more compelling against corrosion issue.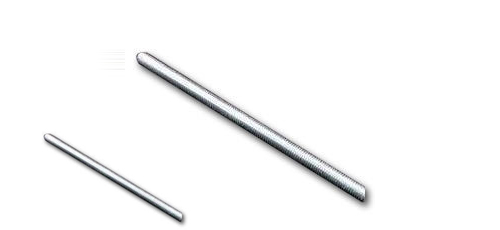 In an grounding system, the ground terminal gives the physical association with the earth and is the instrument used to disperse current into it. There are two principle sorts of terminals.
"Natural" electrodes are natural for the office and incorporate metal underground water pipe, the metal
casing of the building (if successfully grounded), and strengthening bar in solid establishments.
"Made" electrodes are introduced particularly to enhance the execution of the establishing framework and incorporate wire networks, metallic plates, covered copper conveyor and bars or pipe crashed into the ground.
The ground bar is the most broadly utilizing grounding electrode.
Characteristic in Stainless Steel Earthing Rods:
PRODUCT CODE
INTERNAL THREAD SIZE (MM)
DIA(MM)
LENGTH(MM)
WEIGHT(KG)
NSS1612
M10
16
1200
1.88
NSS1615
M10
16
1500
2.35
NSS1618
M10
16
1800
2.82
NSS1624
M10
16
2400
3.77
NSS1630
M10
16
3000
4.70
NSS2012
M10
20
1200
2.93
NSS2015
M10
20
1500
3.67
NSS2018
M10
20
1800
4.40
NSS2024
M10
20
2400
5.85
NSS2030
M10
20
3000
7.32
NSS2512
M10
25
1200
4.90
NSS2515
M10
25
1500
6.15
NSS2518
M10
25
1800
7.35
NSS2524
M10
25
2400
9.80
NSS2524
M10
25
3000
12.25
OUR SUMMARY:
Reviewer
Review Date
Reviewed Product
Stainless Steel Earth Rods, Earthing Rods, Stainless Steel Earth Rod Manufacturer, Exporters and Suppliers
Author Rating